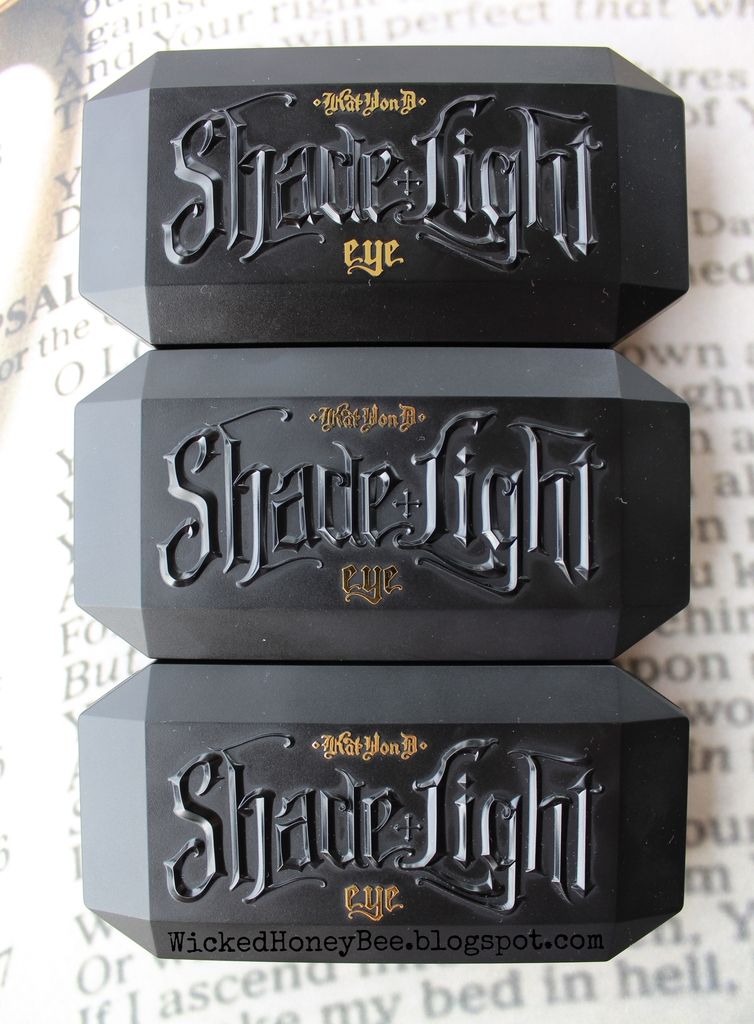 Hi everyone! :) I am so excited to come back with this review with my own personal, most awaited Kat Von D Shade + Light Contour Quads! I ended up picking up three. I just could not choose between which ones to get.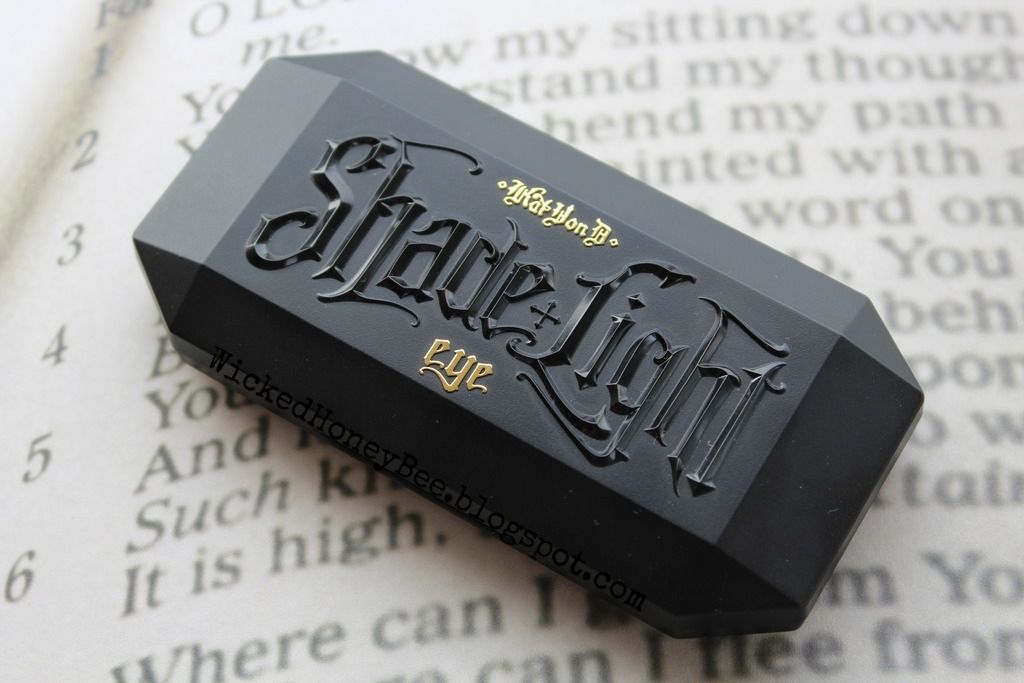 They each retail for $26 and come with standard full sized kat von d shadows which include 3x 0.04 oz shades and 1x 0.092 oz shade. You can find these at Sephora or on Kat Von D beauty website.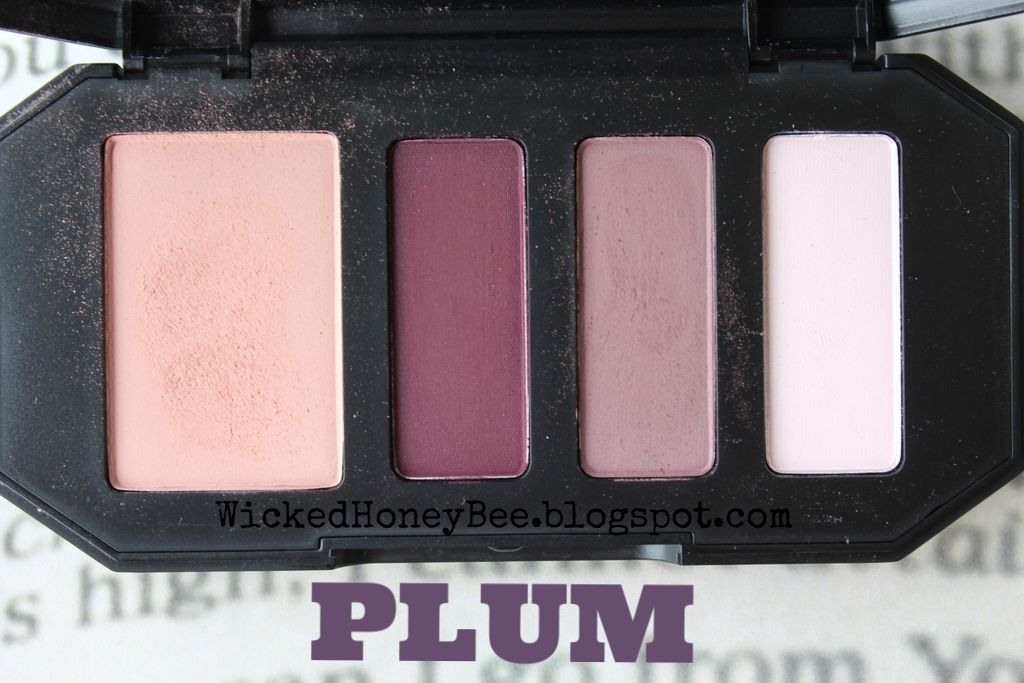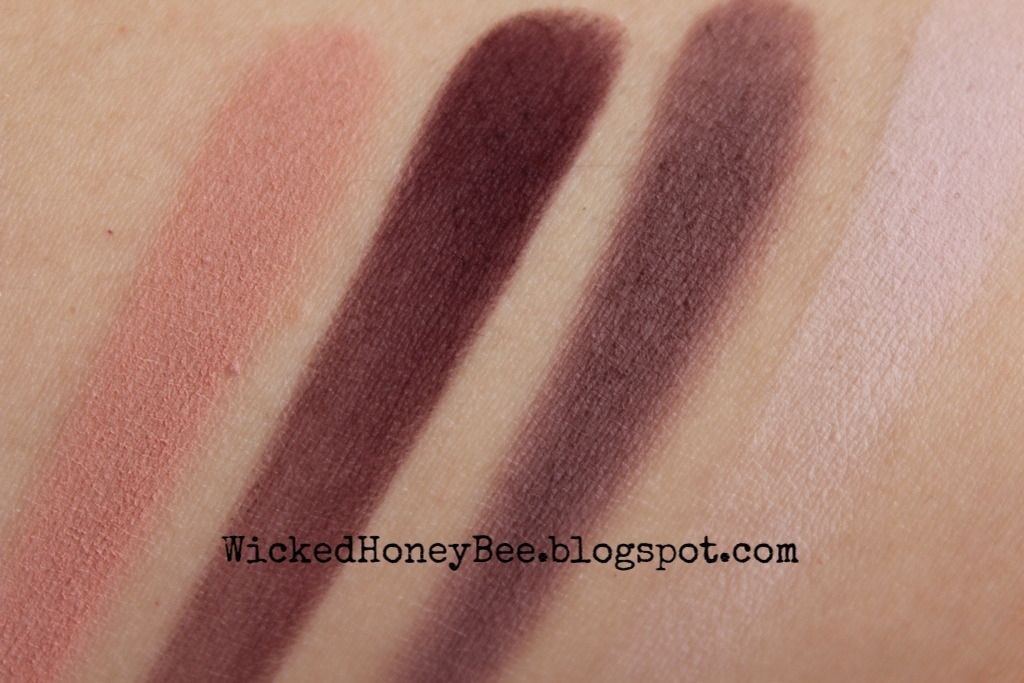 PLUM QUAD ( for green eyes)
Base: matte, light rose-peach with some beige undertones
Define: matte, warm rich eggplant
Contour: matte, medium-dark mauve with cool undertones.
Highlight: matte light flesh tone with strong pink undertones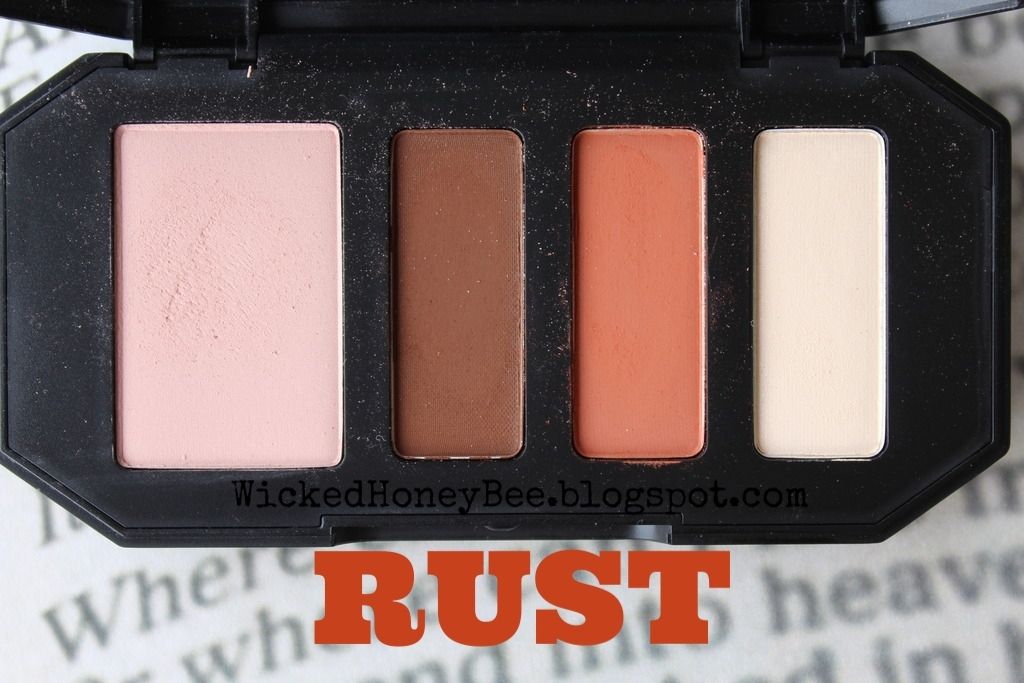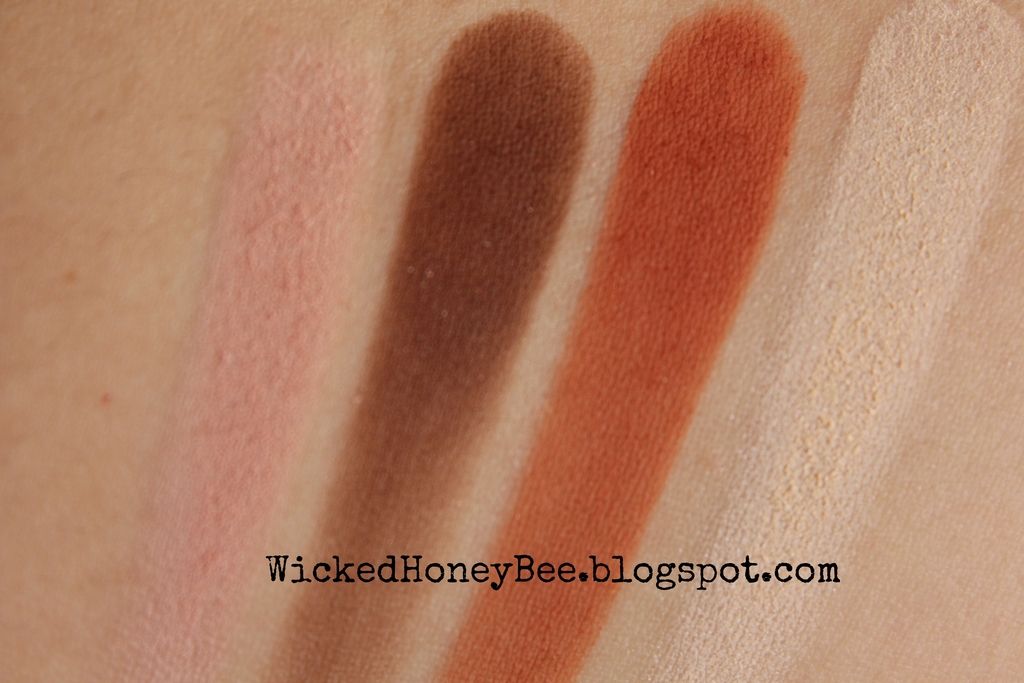 RUST QUAD ( for blue eyes)
Base: matte, very light apricot
Define: matte, medium-dark, warm chocolate brown
Contour: matte, medium toned, warm orange with a slight tan undertone
Highlight: cream white with a floating pearl finish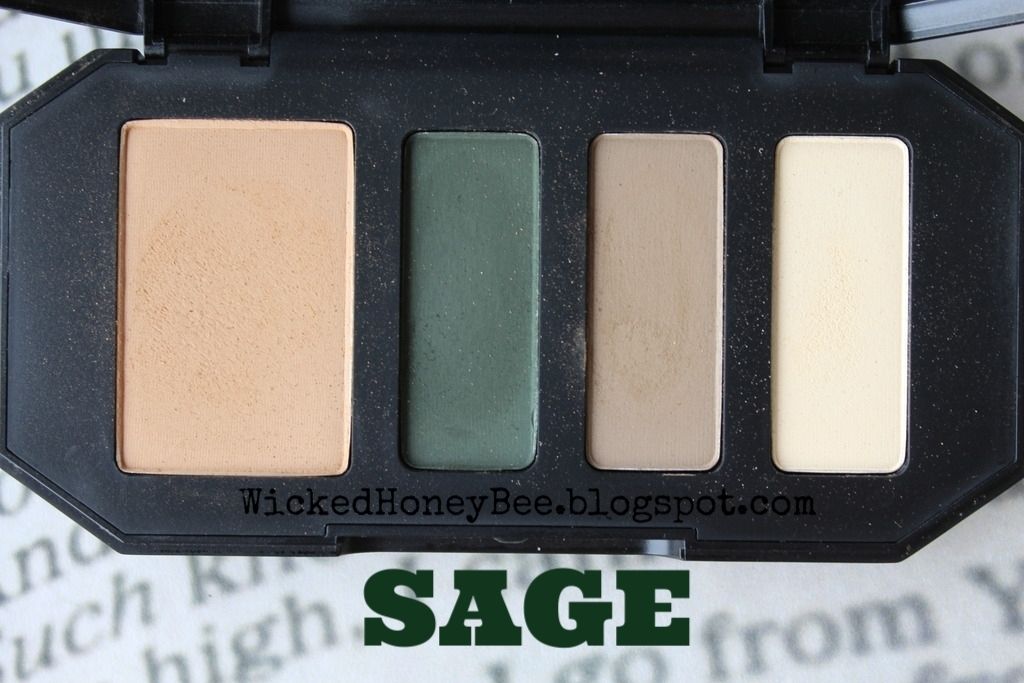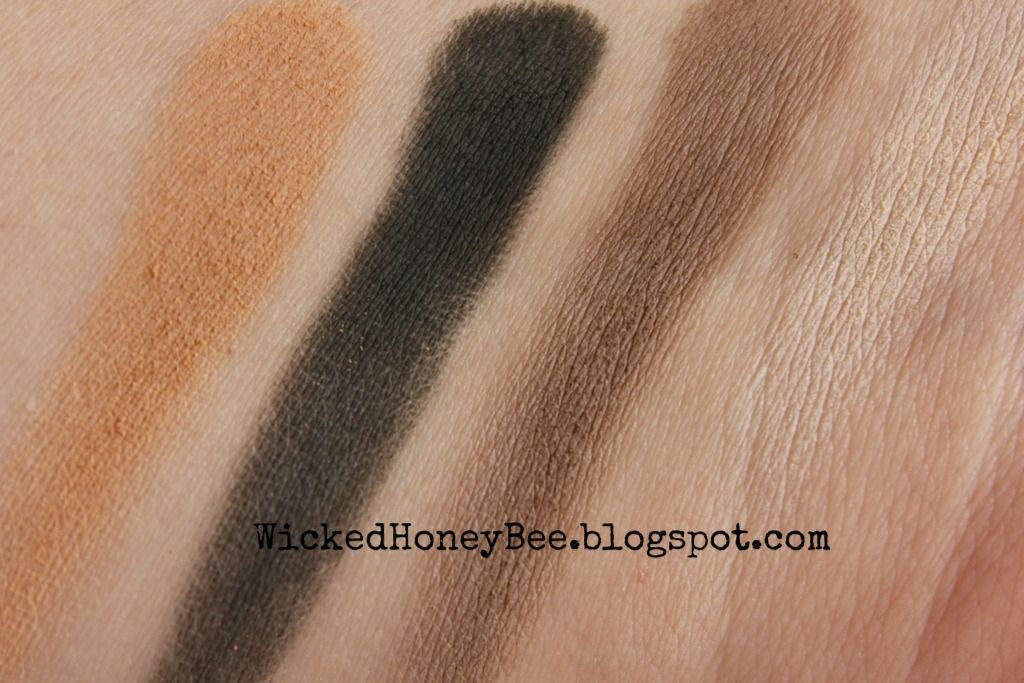 SAGE QUAD ( for brown eyes)
Base: matte, tan with peach undertones
Define: matte, dark emerald green
Contour: matte, medium tone taupe with very faint khaki undertones
Highlight: matte off white with yellow undertones
Each quad is intended for a certain eye color. Obviously you don't have to use a certain quad if you have a certain eye color. It's just a guide for which quad CAN flatter your particular eye color the best according to the color wheel and color theory. I love this concept of the quads!
My favorite out of these three was definitely the Plum quad followed by Rust.
All three of the Base shadows were phenomenally smooth, creamy and sooo freaking easy to blend out. These are awesome transition shades. They blended like a DREAM. That being said, I did notice a difference between the base shades and the define, contour and highlight shades. The define, contour and highlight shades were a notch less silky and less pigmented than the base shades but were still decent nonetheless. I did notice some dry texture with both SAGE and PLUMS define colors. SAGE Define color in particular was probably the least impressive of the bunch. That deep emerald was harder to work with in terms of patchiness and blendability. I was able to get the pigmentation up to 9 out of 10 but I normally wouldn't have that problem of having to build up pigmentation with Kat Von D shadows.
There is A LOT of powder kickup if you are not careful with these. Just like any other Kat Von D eyeshadow, these pressed powders are very finely milled. I personally don't mind the formula of the Kat Von D eyeshadows. I think that quality is the reason why the eyeshadows blend out so beautifully. So whenever you are working with these quads, instead of swiping your brush in the pan, you tap your brush gently to pick up product.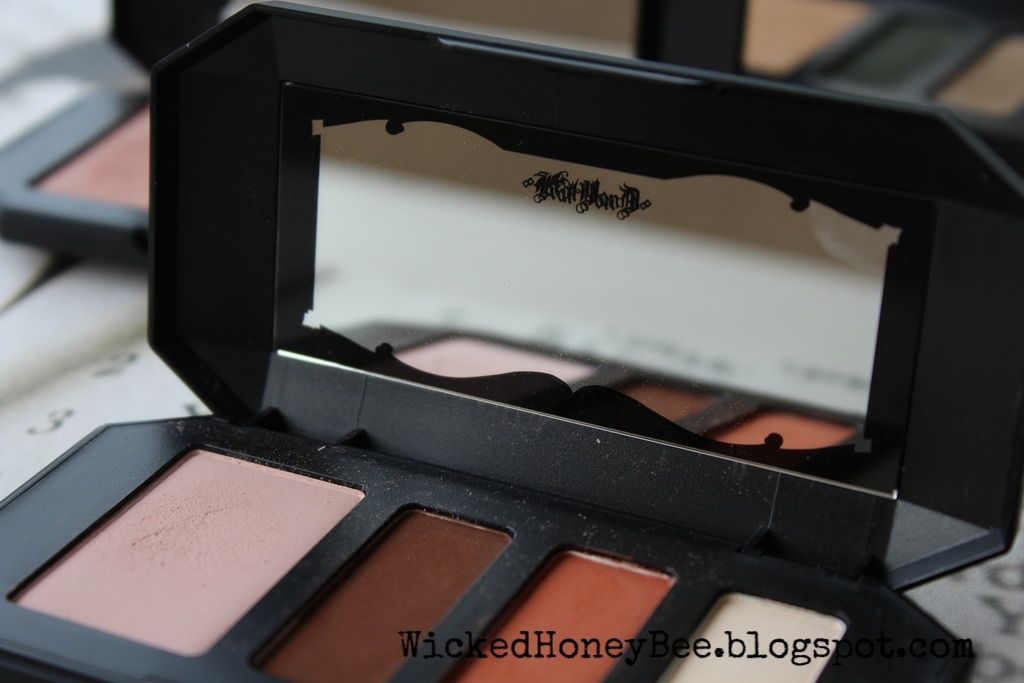 The coffin like packaging is super duper cute! I really the artistic idea to it but it's not the most practical. This packaging consists of hard plastic and a small mirror inside. Now the size of the mirror inside does not bother me one bit. It's the fact that it's kind of hard to use. Not impossible but yes, kind of hard. I really wish the packaging would bend flat out so the hinge could be at a 180 degree angle like the Urban Decay Naked Basics. This does not do that. It only bends 90 degrees and with an even smaller mirror than the Urban Decay Naked Basics, it just makes it a little less travel friendly.
I'm a bit torn on my final verdict. I always try to give you guys an unbiased review but I also like to put my own input because I know that I can relate to peoples honest likes and dislikes. Sooo... I think these are expensive. I'm content with them. I won't be returning them but they are expensive considering the price of Kat Von D Shade + Light palette. I paid almost double for these three mini palettes in comparison to the Kat Von D Shade +Light palette.
Rust is very easy to dupe in terms of colors. I already found something similar in my Kat Von D's Ladybird palette and a limited edition Wet n Wild trio that I have. Buuut... they are Kat Von D eyeshadows and even though some of the shades are not 100% exactly like quality of the Kat Von D Shade + Light palette, they do still function like any Kat Von D eyeshadows. They are some of the easiest to blend eyeshadows that I own. They are some of the best matte eyeshadows I own, if not the best. I am always raving about the Shade + Light palette and how Kat Von D really understands color as a true artist does and these are no exception in terms of color. I love the color selection for all three. I think they are spot on and I do still like the formula on these. However, there are some inconsistencies with some shades. The formula was a little less pigmented with a few shades in particula but in the end, I could still work with those drier colors and build them up. So just be wary that although these are still nice quads, they are not exactly the same quality as the Shade + Light Contour palette. I think I would compare the quality of the quads more to her Mi Vida Loca Remix Holiday palette in which there were some colors that were drier and less pigmented than others.
I guess it all boils down to if you like Kat Von D eyeshadows and if there are any quad colors in particular you like to create your desired eyelook? These all have a matte finish! I expect Plum to be most people's favorite. It was certainly mine!
PROS:
-Instructional palette helps user know where and how to use palette
-Smooth and the creamiest Base colors
-Colors are customized for a specific eye color
-Very easy to blend
-Cruelty free
- Colors could be built up in pigmentation
-Comes with a mirror
-Travel friendly
NEUTRAL
-Powder kicks up when using a brush. Silky texture however helps blend shadows
-Love the coffin packaging!
CONS:
-pricey
-Formula difference between the Base shades and the Define/Contour/Highlight shades
-Some colors were not as pigmented
-The angle the palette can open to can make access to the mirror difficult.
I love Kat and the artistry she stands for. I am personally content with these. I have been waiting very patiently for these to be mine since she announced them. I look forward to rocking them! :D
Any questions, comments or concerns please let me know and I will get back to you as soon as possible!
Thanks for stopping by! :)
Wicked Honey Bee