Happy Friday peeps! Such a long week for such a short weekend but we can make it into a good weekend right? Yes of course! I have been asked a couple times on how to apply eye makeup and I thought I would share with you guys three essential steps to apply eyeshadow.
First thing I must stress is there really is no right or wrong way to apply makeup. I also want to stress that these are not necessarily rules to live by for makeup application. I can never say, "This is how you should wear your makeup" or "these rules are set in stone and you should do your eye makeup like this forever and ever". Uh no lol. These are just my personal suggestions for beginners to understand how eyeshadow works on your eye and how to apply it on your eye to bring out definition. Applying it this way is surely a great way to start to become a pro and start setting your own rules. Once you can master this, I certainly encourage you to add your own rules to really bring out the best of your features!
STEP 1: PREPPING
PRIMING
What a primer does is it helps the eyeshadows stick better onto your eyelid, make the colors appear more true to color and make the eyeshadows last longer without creasing. Many different cosmetics companies have eyeshadow primers such as ELF, Urban Decay, NYX, BareMinerals, TooFaced, etc. Find one that works best on you but truthfully most of them work very similar.
TRANSITION SHADES OR BLENDING SHADES
Blending is very important and for this we need a good transition shade. I like to refer transition shades as shades that bring the crease color and your browbone color together. Kind of like the ozone area that connects our air and outer space together. Sorry that's the best anaology I could think of ;P The point of a transition shade is that you can't really tell it's there on your eye. It should be a color that is similar to your own skin color. This is not to be confused with a CREASE color. A crease color should be darker than a transition shade. It seems almost pointless looking at a transition shade in it's eyeshadow pan once I show you some examples but I guarantee it will help soften the darkness of your darker colors, blend the powders together better and eliminate harsh edges/lines.
Here are some examples of transition shades for different skin tones.
My personal favorite is Urban Decays Freestyle from their Smoked Palette. As you can see, it is very close to my skintone but is slightly darker.
Transition shades go on the crease area and up near your eyebrow. You will want to take a fluffy crease brush and apply it all over this area. Do not worry about it being specific. I apply mine pretty messily and make sure I get it pretty close to my browbone.
STEP 2: KNOW YOUR EYESHADOW
Let's start with knowing what colors to choose for your eyelook.
MATTES Vs. SHIMMERS
It may not seem like it but mattes and shimmery shades (or metallics) serve two whole different purposes. Mattes or shades that are flat and lack any sort of shimmer are better for areas that are more sunken into the face or that are furthest away from a light source such as the crease. Shimmers or metallics are better for areas that protrude furthest from the face or areas that are closest to a light source such as the browbone, cheekbone, eyelid, down the bridge of the nose. Shimmer reflects light and makes things appear bigger and makes features protude more from the face.
This is why highlighters usually have some sort of shimmer and go on the facial structure that naturally hits the sun the most like cheekbones and down the bridge of the nose. This is also why it is recommended that your contour or bronzer is matte because it will make your face appear thinner in the areas that you apply it.
Matte: furthest from light source, into facial features that naturally cast shadows,
Shimmer: closest to light source, onto facial features that naturally protrude
DARK Vs. LIGHT COLORS
Just like black is slimming on clothes, the same can be said about eye makeup. Colors like black eyeshadow or eyeliner can really make the eye appear smaller, while lighter colors such as champagnes can brighten the eye area and make you appear more awake. I will sometimes use a nude or flesh colored eyeliner on my water line to make my eyes appear more wide. When I use a black eyeliner, it will the have the opposite effect and make my eyes appear smaller. See what I mean about illusion?
Light: makes it seem wider, more open, bigger
Dark: makes things seem smaller, closes eye area more
COOL UNDERTONE Vs. WARM UNDERTONE
Now, warm toned shadows tend to flatter warm toned skintones better than cool while cool toned shadows tend to flatter cool toned shadows better. It's not that you shouldn't wear a cool toned if you are warm or vice versa but anyone that does their makeup should definitely be aware of what their skins undertone is. Some colors just naturally look better on your specific skintone and that is because of the undertone of your skin. I am warm toned with strong yellow undertones in my skin. I naturally look best in golds, warm browns, and maroons while many cool toned grays and silvers look really out of place on me so I have to be careful about how much cool tones I add to my eyelook. You can still mix warm and cool to create some really interesting looks!
STEP 3: WHERE TO APPLY YOUR EYESHADOW
Basic Guideline for Eyeshadow placement and definition
Lightest, shimmery or matte shade on lid

Meduim tone, matte shade in crease

Darkest tone, matte shade in outer crease and outer lid into a V shape
There are a ton of ways to apply eyeshadow and bring definition to your eye. I personally love to use a medium tone on the inner lid and outer lid and use a highlight in the center. This does make my eye appear smaller because I am using a darker color on the inner lid. To make your eyes appear wider, use a shimmery and light shade on the center lid, inner lid and tearduct area. Experiment and you'll see what I mean! :) Whenever I do a nice eye makeup I usually use up to 7 or 8 different eyeshadows to really help bring the colors together, blend and give some complexity to the eye makeup. So I really pay attention to all of the eye areas that I labeled above. For my browbone shade I will use a matte shade or two lighter than my natural skin color.
Here are some examples of trios for definition of eye.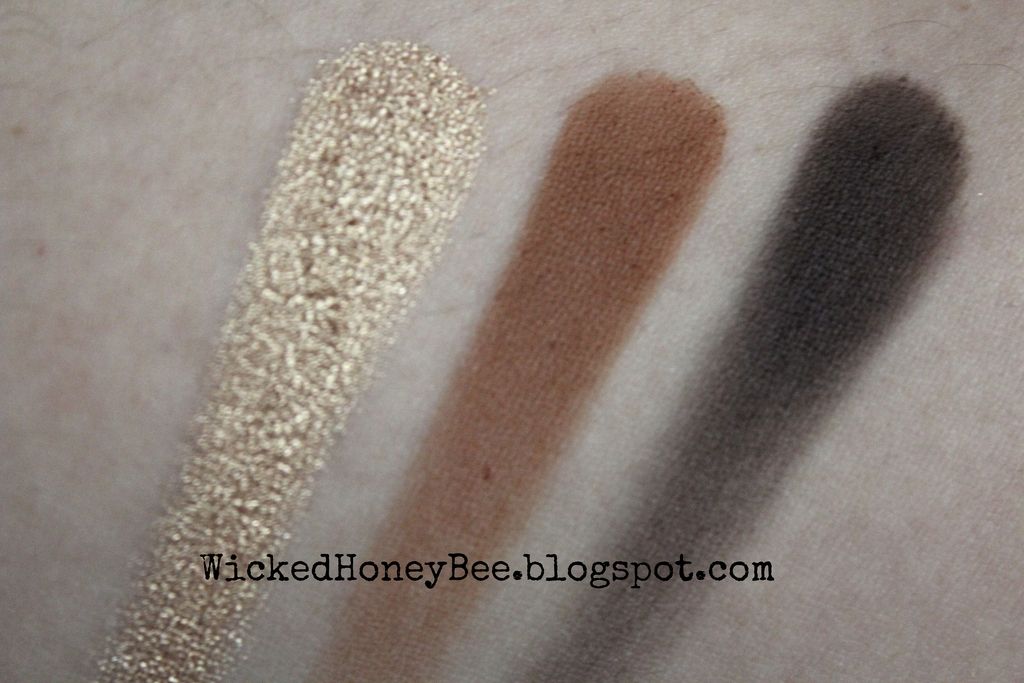 Makeup Geeks Foiled Eyeshadow in Magic Act (lid), MAC eyeshadow in Saddle (crease), MAC eyeshadow in Dance in the Dark (outer crease into outer lid)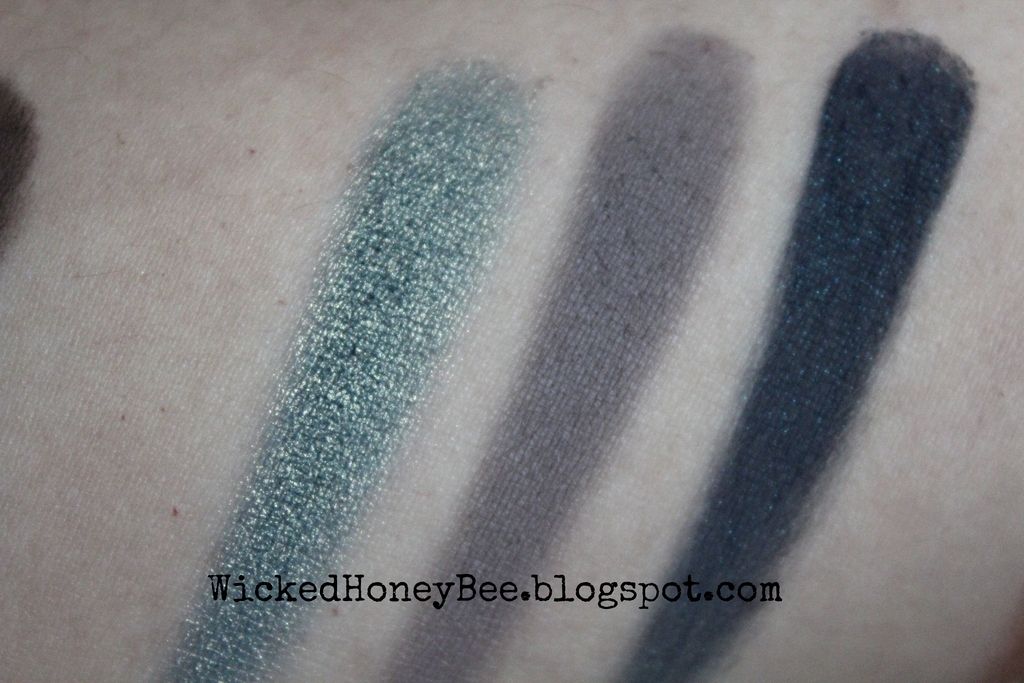 Coastal Scents Hot Pot in Niagra (lid), Inglot Freedom System Eyeshadow in 339(crease), Urban Decay Eyeshadow in Prank (outer crease into outer lid)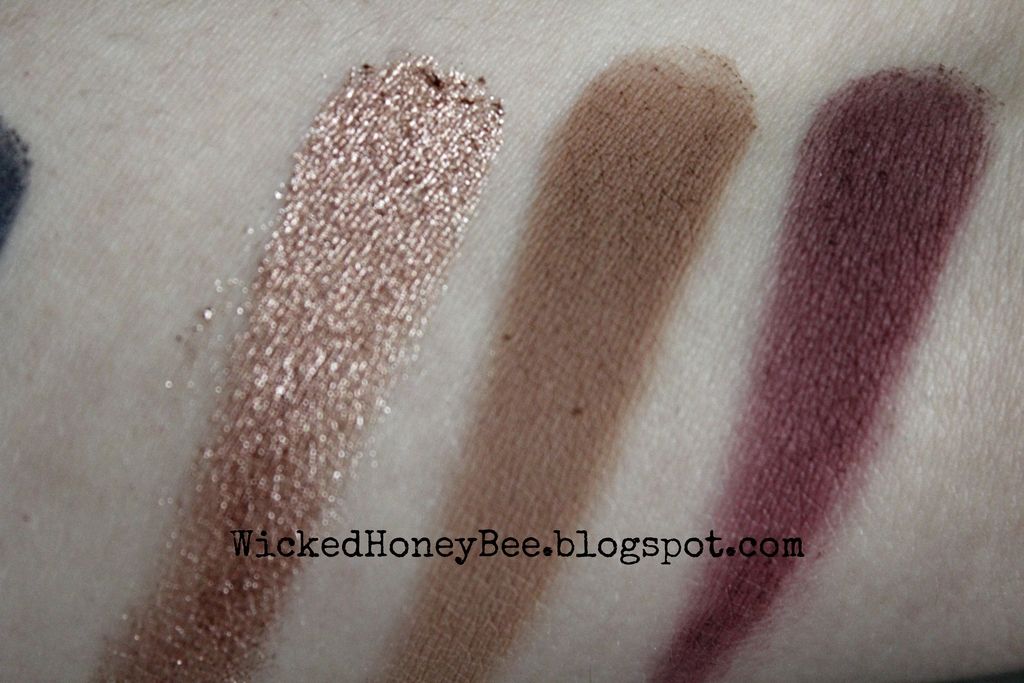 Loreal Infallible Eyeshadow in Amber Rush (lid), Urban Decay Eyeshadow in Tyranny (crease), Coastal Scents Hot Pot in Maroon Berry (outer crease into outer lid)
Additional Tips:
-Overblending can cause the shadows to look muddy and lose color and vibrancy. Not blending enough can make the eye look unfinished and choppy. Small, quick patting motions can help blend colors together without making them muddy looking.
-It is better to build up (put a little at a time) a dark color than to put too much on the first swipe
-Practice! Experiment! Eye makeup does have an artistic factor to it and just like art it takes practice so don't get discouraged if it doesn't come out exactly how you want it. The more you experiment and practice, the more you will enjoy how your eye makeup comes out.
I hope you guys found these three basic steps helpful. If you have any questions regarding this post please do not hesitate to let me know. Thank you guys for reading. See you soon!
-Wicked Honey Bee