That being said... a lot of these pencils I did get in sets and some in palettes. Some of these were limited edition. Some are permanent. You will notice some VERY similar colors but I swear it's not because I purposely tried to buy same colored pencils. Like I said, most of these I did get in sets.
Shall we get started? I think we shall!
Ultraviolet, Deep End, Vacancy, Accuse, Gonzo, LSD, Ink
Ultraviolet: a bright, royal blue with blue shimmer and a slight violet shift.
Deep End: bright teal. when compared to Vacancy, Deep End leans more blue.
Vacancy: bright teal. When compared to Deep End, Vacancy leans more mint/green.
Accuse: blue jeans colored with a bright aqua glitter.
Gonzo: bright, electric blue with slight floating pearl.
LSD: black base, navy with intense blue glitter.
Ink: satin navy with a black base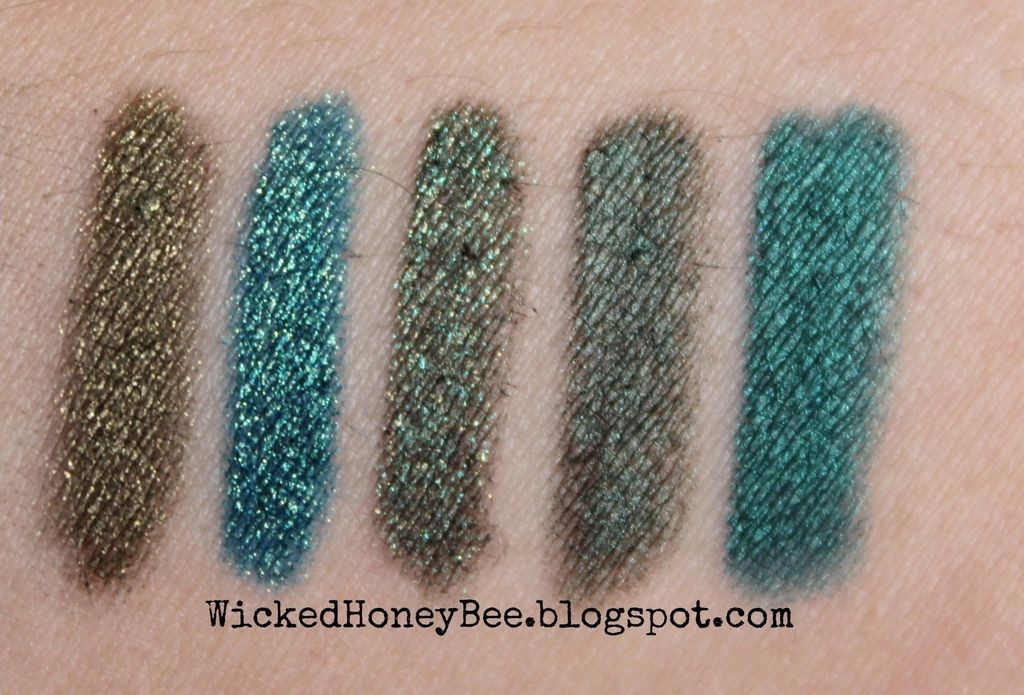 Stash, Junkie, Zodiac, Apathy, Mars
Stash: olive green with gold shimmer
Junkie: blue-green with multi-colored glitter and shimmer
Zodiac: moss green with blue and gold shimmer
Apathy: smoked out, cool toned forest green
Mars: emerald green with a satin finish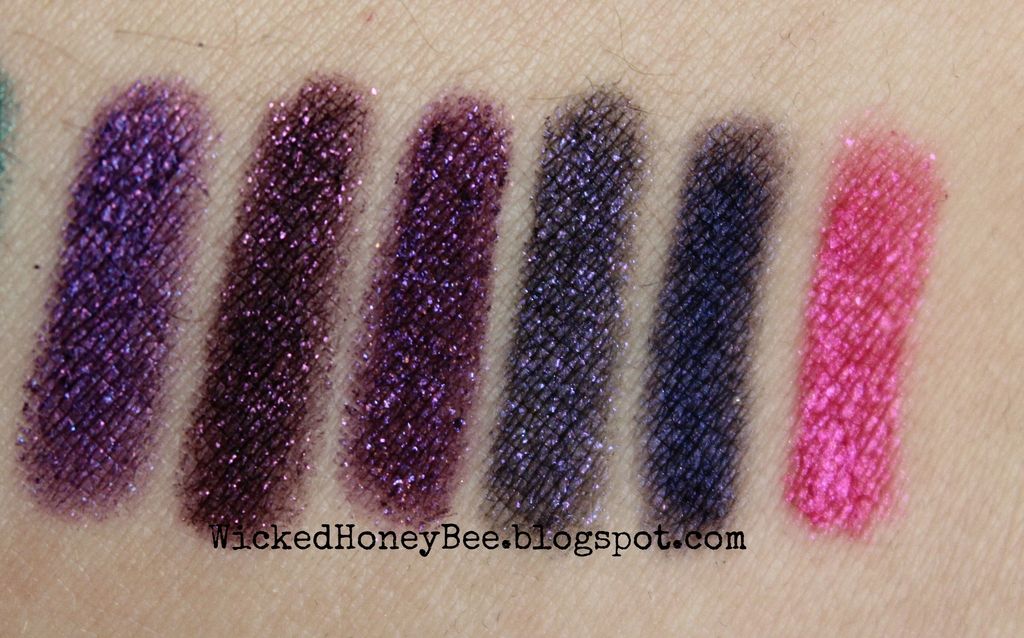 Voodoo, Delirious, Vice, Riot, Tornado, Woodstock
Voodoo: bright purple with violet and pink shimmer
Delirious: Deep eggplant with pink shimmer
Vice: warm purple. similar to Voodoo but with more red tones to it
Riot: cool toned dark violet with silver shimmer
Tornado: Satin dark purple with a black base
Woodstock: bright pink
Darkside, Blackheart, Roach, Twice Baked, West, Glitter rock, Mugshot, Faint, Muse, Demolition, Smokeout
Darkside: satin mauve gray
Blackheart: deep eggplant with intense gold and pink shimmer
Roach: warm, bronze, brown with gold shimmer
Twice Baked: cool toned, dark brown with gold shimmer
West: neutral dark brown with slight gold shimmer
Glitter Rock: beige nude with TONS of pink glitter. This is one of my faves. I love this on the lower lash line
Mugshot: Taupe, champagne
Faint: neutral, matte medium toned brown with a slight ashy undertone
Muse: neutral brown with red and gold reflex
Demolition: dark, smoked out brown
Smokeout: ashy, gray dark brown/ charcoal black with a satin finish
Perversion, Pistol, Moonspoon, Desperation, Crave, Black Market, Stargazer
Perversion: The most, flat intense black
Pistol: cool toned, satin taupe
Moonspoon: gunmetal gray with silver glitter
Desperation: dark, matte gray with settled plum undertones
Crave: soft black with some dark brown tones
Stargazer: bright yellow gold
Rehab, Mushroom
Rehab: warm toned taupe
Mushroom: cool toned silver, taupe
Hope you guys find these swatches helpful:) Happy December everyone! Q's, comments or concerns, let me know and Ill get back at you pronto!