Hi peeps! Hope you guys had a great holiday season! I am back with a review and swatchfest of the new and GORGEOUS makeup geek glitters.
Each jar comes with 4 grams of product. This bundle set retailed for $95 but have been reduced to $75 until they are released with the sifters. Individual jars retail for $12 each but have been reduced to $10 until they are released with the sifters.
Taken in different lighting. APPLIED WITH LIT COSMETICS WATER RESISTANT GLITTER BASE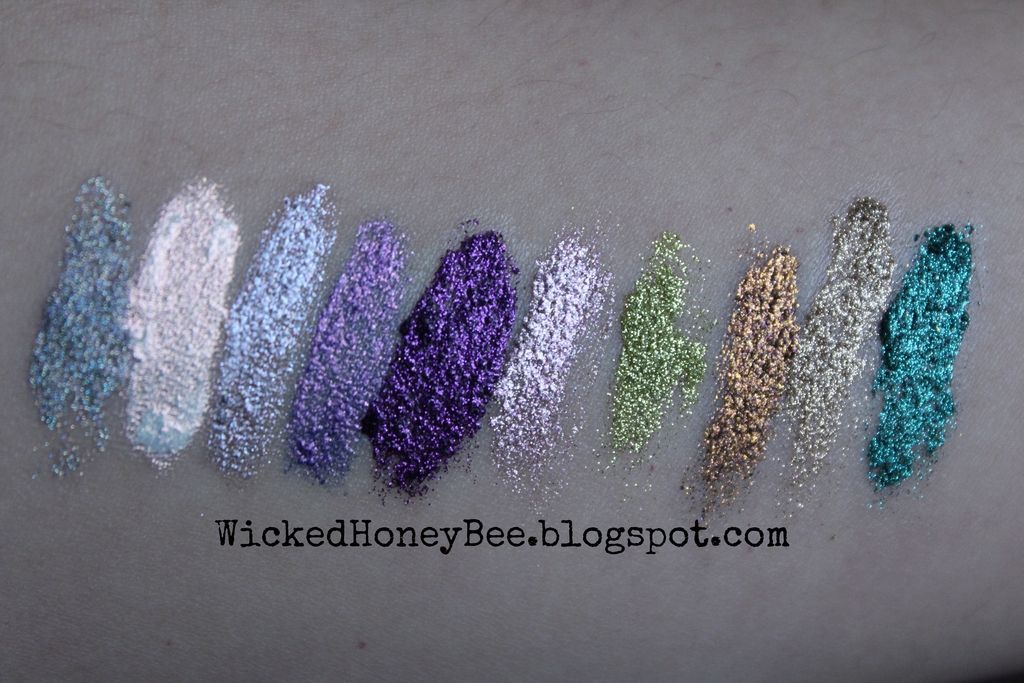 Milky Way, Light Year, Aurora, Zodiac, Nebula, Halo, Supernova, Satellite, Asteroid, Martian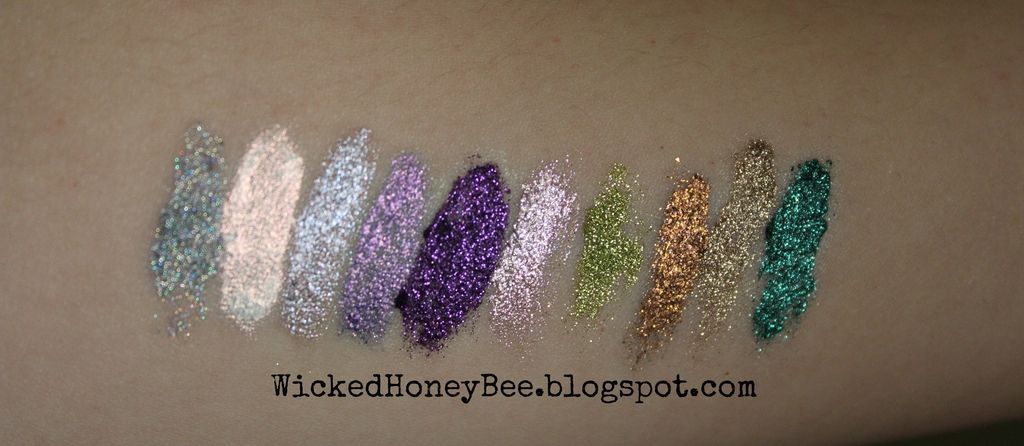 Milky Way, Light Year, Aurora, Zodiac, Nebula, Halo, Supernova, Satellite, Asteroid, Martian
Milky Way: finely milled silver with holographic, multi-colored glitter
Light Year: Feels and looks more like a pigment rather than a glitter. A cream white with a pink and gold shift. Very metallic and beautiful.
Aurora: taupe lavender glitter
Zodiac: Gorgeous, bright lavender base with intense pink glitter.
Nebula: eggplant purple glitter
Halo: the finish reminds me of the Makeup Geek foiled eyeshadow rather than a glitter. Extremely metallic and reflective. Baby pink metallic. Smooth and creamy finish.
Supernova: bright yellow chartreuse glitter.
Satellite: unique warm brown with purple glitter running through it. It's kind of hard to describe but I believe this will be a favorite for sure. It's gorgeous!
Asteroid: true gold glitter
Martian: deep, emerald green glitter.
Overall, the packaging... is the real buzzkill. I found myself by the end of trying to use them and swatching them, irritated. It makes mess no matter how hard you try to be careful. It will spill and since the glitter particles are so finely milled, you will also find glitter floating around in the air. It will literally get everywhere :( So I'm really disappointed in that aspect that these are so frustrating to work with even though the quality of these glitters aren't.. which brings me to the glitters themselves. These are essentially glitters and just like any glitters, these will not adhere to the bare skin by themselves very well. These need a sticky or tacky base, preferably a glitter glue of some sort. I used Lit Cosmetics glue and the glitters worked just fine. Some streakiness is visible if applied with a sweeping motion so I suggest a patting motion to get the best effect and coverage. These glitters do have different finishes. Some are chunkier than others while others apply more like a pigment. I am confused on the issue of safety on these. The sparklers are considered glitters and on the Makeup Geek website, they are marketed as "completely eye safe", but these have been acknowledged as SAFER than most glitters by Marlena herself because the glitter is so finely milled. My recommendation is that you treat these for what they really are: glitters. Glitters are not intended for eye area because they can cut your eye or cause blindness in extreme cases. Use at your own risk around eye area. I personally have used these around my eye and have not had a problem at all. Even with larger cut glitters like MAC or Lit cosmetics, I have had no problem with glitters irritating my eyes.
I did enjoy these glitters. They are beautiful. Some are a little more rich in color and sparkle than others but overall, you get some real stand out beauties such as Zodiac and Satellite. I feel like these are, in a sense, more wearable on the eye than say MAC glitters because the glitter particles are much, much smaller and less chunky than traditional glitters.
These next photos are from the mess I made the SECOND time I opened them. Very carefully lol. As carefully as I could anyways.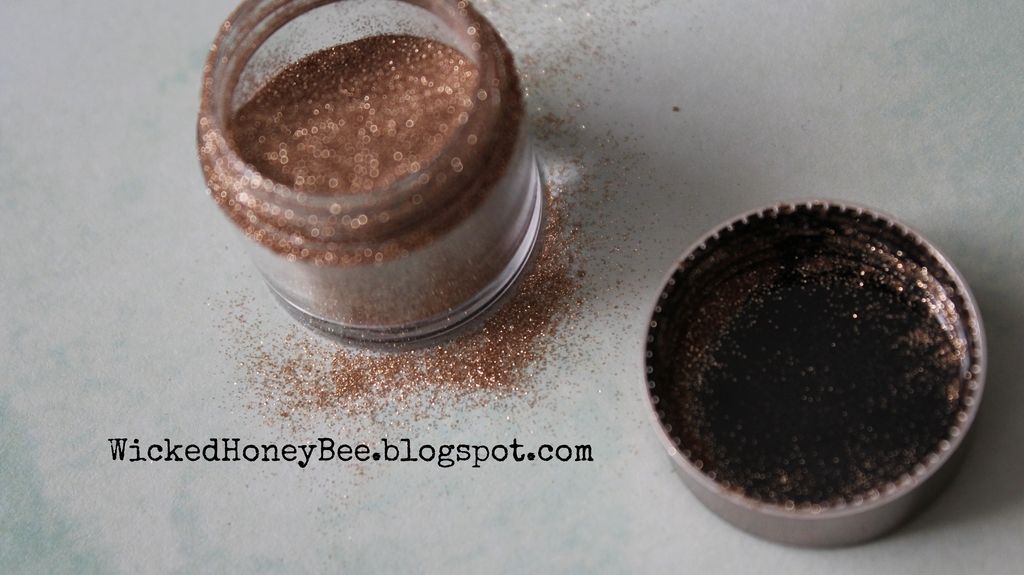 Simply opening the jar... carefully
The glitter falls into the lid screw, making it impossible to be travel friendly. I currently have mine stored upright until I receive some sifters. Every jar was like this.
After being updated, Marlena explained that there will be a $2 refund for each bottle bought that does not have a sifter. On top of that, once the sifters are available for individual purchase, they will retail for 1 penny each. I am sooo happy. I was so ready to return these even though they are beautiful because the mess it makes IS a big deal. I've seen some people complaining on how it isn't such a big deal and that people like myself are just trying to bring down Makeup Geek or being overdramatic which is not the case... at all. Everytime I opened these jars, I would have to literally clean up the glitter that fell on my desk and on my hands. I have no trouble with MAC glitters or LIT cosmetics glitters. The sparklers lack of sifter makes it messy and would be so unprofessional for a freelance job. No matter how much I try to clean up the edges of the jar or stand them upright, it would make a frustrating mess so I am very happy that Marlena and her Makeup Geek team listened and are doing their best for a solution. I am in no way bashing Makeup Geek or even the product themselves. I am confused by the fact that these were pushed to be released even though they were technically not finished yet. I understand that these are perfect for the holidays and that was Makeup Geeks intent on putting them up for sale before Christmas. That being said, I think they should have just waited to make sure the packaging issues does not overshadow the performance of the product. I am happy though that Makeup Geek has amazing customer service as always and has responded in a professional manner and show that they do care about customer satisfaction. So thank you Makeup Geek for the clarification and reasonable solution because these really are beautiful glitters! :) I'm excited to see your company grow and experiment with new products. Keep up the good and hard work!
As of now, I cannot recommend these glitters. Not until they resolve their packaging issue. So, I would recommend just waiting it out until they start releasing their jars with sifters. Then, grab as many as you want WITH a glitter glue! If you need glitters now, I can definitely recommend the Lit cosmetics glitters. Those are gorgeous as well!
I hope you guys found this review helpful. If you guys have any questions, comments or concerns please let me know and I will do my best to answer them!
PROS:
-unique colors
-vibrant, good quality
-safer on the eyes than larger cut glitters
-cruelty free
CONS:
-VERY messy packaging