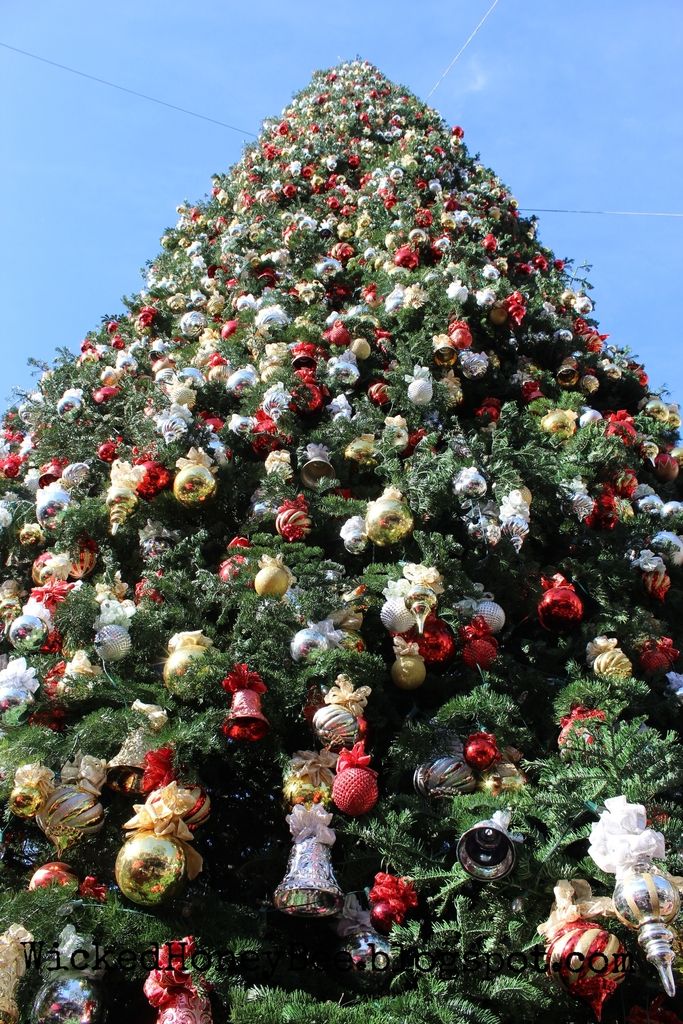 Photo taken last year at the Los Angeles food market near Beverly Hills and yes, the tree was huge
Hello wicked readers! It's that time again. The holidays are finally and officially upon us and if you are anything like me, you probably feel excited... as well as overwhelmed at the thought of the holidays here.
I think it's really important to be completely honest with you all, not just in my reviews on beauty products but in real life as well. The holidays can be just a mess for some people and I know I struggle with them as well. I do wish everyone stays safe and happy during they most hectic time of year. So I want to talk to you guys that do have some trouble with staying afloat during the holidays and offer you a (hopefully) helpful checklist to keep in mind while you are out during the festivities :)
Here are ten ways to keep sane. Yup. Sane.
1.Exercise
This is often very frequently overlooked during the holidays until January 1. Exercise is not just about losing weight or looking sexy. It's about helping you feel better. It does not have to be an hour of cardio. When I say exercise, it can be anything from just walking, stretching. I personally love yoga. Mind you I suck, but what matters is the effort you put into it and I promise you will see progress!
2.Volunteer Work
This is so important on so many levels. It can be anything from food banks, shelters, animal shelters, churches, hospitals, senior citizens care centers, donating blood. The list can go on, and on about how much there is to do.
3.Budget
So easy to talk about. So hard to do. But it's true. Have a budget and stick with it! Money is money and only you know how hard you worked for it and what other responsibilities you need to take care of first! Your budget can be $10 for your entire family by making christmas cookies or a pie. You don't need to be buying ipads to make it a "good" christmas gift.
4.Take a Time Out
Take one day or a couple hours of the day JUST FOR YOU and do whatever it is you want to do. If photography relaxes you, go take some pictures. If playing music makes you happy, go make some beautiful music. If playing with makeup is your happy time...then go for it. Make time from work, chores, appointments, family meetings, to just relax.
5.Know Your Limits with people
This includes your family and close ones. Don't let people pressure you into doing things that you can't handle or you feel that it's too much. Don't volunteer to cook the turkey when you know you don't have time to do so. It's okay to say no.
6.Eat right and don't eat out
Goes right in with budget. Eating out is not only expensive but can also contribute to feeling tired as it is most likely junkfood. Look up some recipes online and grab some healthy snacks and water on the go.
7. Don't isolate
For many people, the holidays are the most depressing time of the year for different reasons. Whatever the reason is, it's easy to get caught up in negative thoughts. Many times, people would rather isolate themselves from loved ones. Remember, there is a difference between just wanting some alone time and wanting to distance yourself from the "happiness" of the holidays so to speak. If parties aren't your thing, that's okay. Grab a friend and go do something simple like have a coffee date.
8. Write handwritten cards
Most people appreciate receiving cards. It means you thought of them.
9. Get plenty of rest
Sleep is so important. It's easy to get caught up staying up late during the holidays whether it's because you are traveling or because you have company over. Don't neglect on your beauty sleep because it will catch up to you! No one likes being near a grumpy person that didn't get enough Zzzzs...
10. You are not alone
Remember...the holidays are hard for A LOT of people. Some people have lost people during the holidays. Some have had something traumatic happen. Others may not have money. Some are alone, really alone. But most people envision their holidays to be something magical and beautiful and the truth of it is, sometimes you don't feel that it is all that magical for you. You begin to wonder why it isn't working out for you and why everyone else is happy but not you. IT'S OKAY! YOU ARE NORMAL! It's an incredibly emotional time and it's going to be okay.
Thank you everyone who stopped by and please let me know what you do to keep sane during the holidays. Stay safe everyone!